Fig, Pear and Cambozola Slice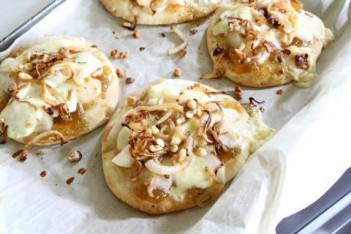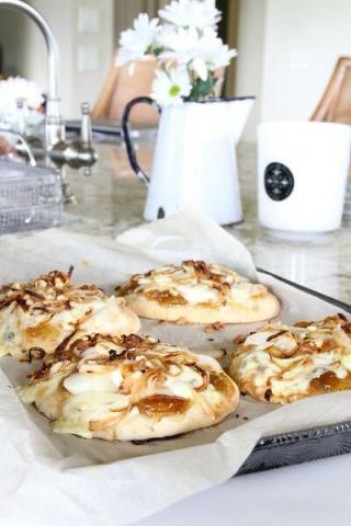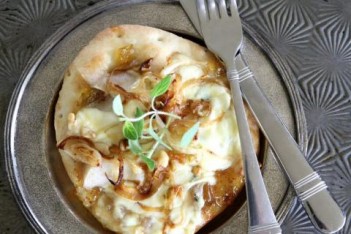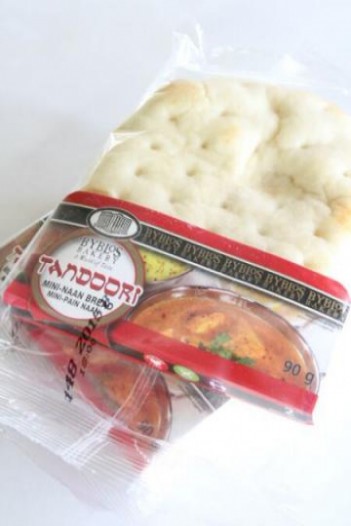 Fig, Pear and Cambozola Slice
Ingredients
4 Mini-Naan Bread (about 100 grams each)
1 jar of Fig Jam (I used Bonne Mamañ from Sunterra Market)
1/2 large white onion
knob of butter (about 1-2 tablespoons)
sprinkling of granulated sugar (optional)
pinch of salt (optional)
2 ripe pears of any kind
1 good wedge of cambozola cheese
Instructions
Preheat the oven to 375 F.
Slice the onion into thin rings. Heat the butter over medium heat, add the onions and cook slowly, stirring regularly, until browned and caramelized. If you wish a sprinkling of sugar and a pinch of salt, but they are fine without. Watch that they don't burn.
Lay the Naan bread out on baking sheets lined with parchment or silpat.
Spread a thin layer of Fig Jam over each Naan bread.
Scatter the onions scantily over the Naan.
Peel if you wish, then slice slivers of pear and scatter over the Naan.
Peel then dot a few chunks of cambozola cheese over everything... less is more!
Bake for 10-12 minutes or until the cheese has melted and the slice is heated through.
Remove and serve.
These can also be made with 4 large Naan by doubling the onion, pears and cambozola cheese.