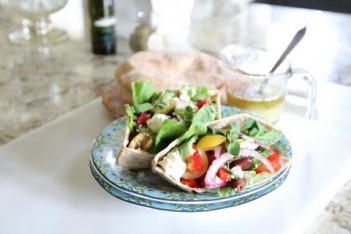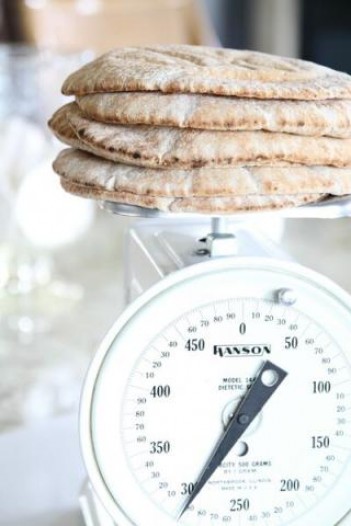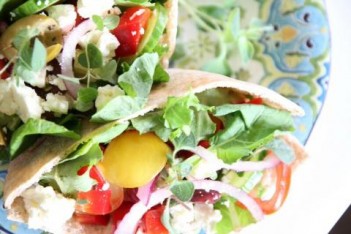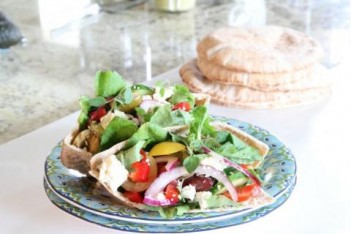 Ingredients:
1 300g package Byblos Whole Wheat Pitas 
1 red pepper, diced
1 english cucumber, diced or sliced
300g (approx 14 small) heirloom cherry tomatoes
1 1/4 cups olives, Kalamata and Sicilian
1/2 large red onion, sliced thinly, add more or less to taste
1 cup feta cheese, diced
fresh oregano
salad greens
Dressing:
1/4 cup olive oil
2 tbsp white balsamic vinegar (or any balsamic vinegar will do)
1/2 large lemon, juiced
1 tbsp dijon mustard
1 tsp dried oregano
1-2 cloves garlic (optional)
1/4 tsp salt
pepper grated
Directions:
Whisk all of the dressing ingredients together in a small cup or measuring bowl.
Mix together all of the salad ingredients, except for the salad greens and place in a large mixing bowl.
Slice each pita in half and gently work your fingers in between the layers to create a pocket. Line the pita half with salad greens, then spoon the salad mixture in to fill.
Drizzle with the dressing ingredients and then top with fresh oregano.
Serve immediately or prepare in advance without adding the dressing.