Healthy Mango & Black Bean Breakfast Burrito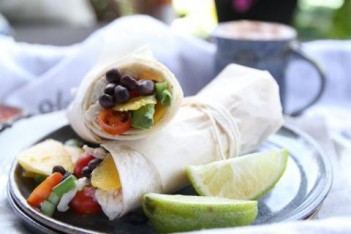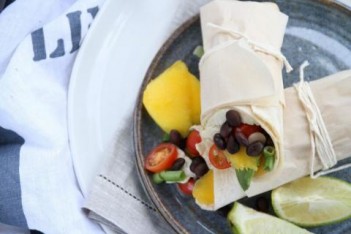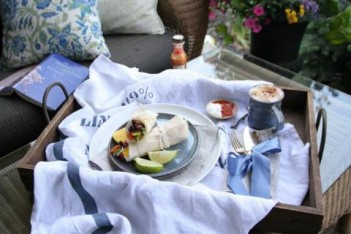 Healthy Mango & Black Bean Breakfast Burrito
Ingredients
splash of olive oil
1/4 yellow pepper diced
1 fat 3 inch breakfast sausage, casings removed (I used Spolumbo's)
sprinkling of cumin
smidge of salt
touch of butter
1 large egg, whisked together with
1/2 cup liquid egg white
salt
pepper
1 tbsp black beans, rinsed
1 green onion (scallion) diced
4-6 small cherry tomatoes, sliced
1/2 avocado, sliced
1/4 mango, sliced
shredded monterey jack cheese or mexican blend shredded cheese
1/4 mango, sliced
salsa to taste
light sour cream to taste
hot sauce to taste
Directions
In a small non-stick skillet, heat the splash of olive oil over medium heat. Add the yellow pepper and crumble the sausage in. Season with a sprinkling of cumin and a smidge of salt. Cook until the pepper is slightly softened and the sausage is cooked through. Remove to a plate and press with paper towel to remove some of the grease from the sausage.
Wipe the skillet clean and add a touch of butter and heat over medium heat. Add the whisked egg and liquid egg whites and cook, stirring until the eggs are scrambled. Season with salt and pepper if you wish.
Heat the tortilla by placing on a large skillet warmed on your stove then flip.
Remove from heat and plate. Layer the eggs down the center of the tortilla. Top with the sausage mixture.  Then add black beans, green onion, cherry tomatoes, mango and avocado slices to taste. Top with shredded cheese if you wish.
Salsa and sour cream can be added directly into the burrito or can be placed on the side.
I love an extra shake of hot sauce as I go, there are several varieties that are authentically from Mexico.
I also enjoy a squeeze of lime, it's piquant flavor goes so beautifully with the mango.
Wrap and cut in half if you wish and devour. I wrapped mine in parchment paper to keep the bottom from dripping out, but these can just be eaten whole.
You will have extra avocado, mango, black beans etc, these are lovely added to any mixed green salad for another meal.